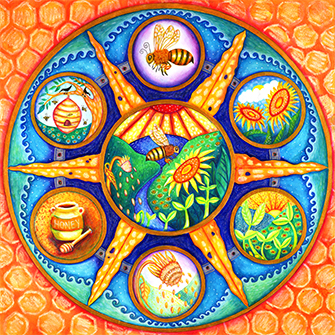 Two Worlds Membership
Two Worlds is a powerful, vibrant community exploring 108 wisdom principles and their application in our lives, our communities, and our organizations.
We are a community of spiritual seekers. And many of us are also doing edge-running work in mainstream or corporate domains. This unique blending of worlds is what makes us a community of world changers.
In the past, most of us intersected at either the annual Wisdom Gathering or in the Two Worlds online forum. Now, our community has entered its next expression, and the following pages describe how more of us are intersecting more often through an ongoing membership.
Our membership model expands the number of ways to learn and explore together and profoundly lowers the cost to attend the annual Wisdom Gathering. We are becoming more accessible to more people. It also adds two deep-dive alternatives to the annual gathering for people unable to attend in any given year. Finally, it offers several new ways to connect and learn together from a distance.
Annual Wisdom Gathering—Core Option 1
This is the cornerstone event for most members each year. In years when attending the Wisdom Gathering isn't possible, individuals choose either Core Option 2 or Core Option 3 described in the panes below.
For many of us, this is the most exciting, meaningful, and inspiring three days of our year. And each year the gathering experiences an incredible evolution through the collective contribution of so many remarkable people.
The Value
The gathering is a unique opportunity to hang out with some of the most interesting wisdom elders and teachers in the world. And with other seekers and explorers ready to experience new worlds. It's also a time for high play! To immerse in provocative, aesthetic experiences. To invest in, and honor, your possibilities and potentials. And to rest and rejuvenate.
The Details
October 21-13, 2019 at Chautauqua in Boulder, CO. We begin Monday morning and conclude Wednesday at noon. There is no tuition for members. Participants pay their lodging expense at Chautauqua.
An Intimate Retreat with Lee—Core Option 2
For those wanting an onsite experience who are not able to attend the Wisdom Gathering.

Remarkable teachers are on the planet for a relatively short period of time. And although they continue to contribute through the legacy of their work, being with them in person is a special gift.

This is an opportunity to hang out with a master teacher. And to sit with a small group of people ready to do the deepest work.

The Value
This is a way to do in-person work in years when attending the Wisdom Gathering is not possible because of scheduling or other reasons. It's also an opportunity to do deeper work in a more intimate setting. And to ask Lee the questions you've always wanted to ask. And to receive more intensive support to take the steps you are now ready to take.

The Details
The group is limited to 20. There is no tuition for members. Participants pay their lodging expense at an inexpensive hotel nearby. This session is intended only for members who are unable to attend the annual Wisdom Gathering.
Personal Coaching—Core Option 3
For those unable to attend either onsite, or who prefer personal coaching.
Ongoing coaching over the course of a year is one of the best ways to accelerate your growth. And working real time with issues and opportunities allows you to better integrate the 108 wisdom principles into your life.
Onsite experiences can be inspiring and powerful, but often we go home and get stuck where the rubber meets the road. Or don't know how to take the next step—or solve our most pressing problem.
Coaching helps us translate wisdom principles into nuts and bolts.
The Value
Coaching is an option for core development work for those who are unable to attend either the Wisdom Gathering or the weekend with Lee. This is the only core option with no added expense. And because it's offered primarily online, there are no specific demands on time. You work when it works for you.
The Details
You will have a private coaching room on the Two Worlds forum. And you may choose to work with Lee, or another Two Worlds teacher, or some combination. This core option is intended only for people who are unable to attend either of the onsites. There is no fee for members.
Monthly Exploration Calls—Member Benefit
Over the last year, several growing groups in Two Worlds have been creating incredible conference call experiences. Some of these have focused on specific topics, like dream work. Others have been meditations, or calls for individuals with special requests. Often the experiences are unorchestrated, collective creations.
The Value
Often people feel isolated and unsupported on their journey. Or yearn to connect more frequently with like-minded people. This is a way to create a powerful inner circle with people from all over the world.
The Details
Calls are announced via email and on the Two Worlds forum with a dial-in number and access code. Calls are also recorded and posted in the forum so you can listen later if you are unable to join the call live.
Philanthropy
The founders of Two Worlds recognize that some of the most talented people in our community could occasionally use a little extra help in bringing their gifts to the world. Or maybe even a little help getting to the annual Wisdom Gathering.
It is our intention to gift what we can to support members of our community in the times it matters most. Every member has a part in this gift with the contribution of their quarterly dues.
The Value
Sometimes the only missing ingredient is money. By providing it, we precipitate what could not take form before.
The Details
Any revenue generated in excess of what's required to cover our direct costs will be directed toward adopted members each year. Our community can nominate worthy individuals, or people can self identify.
Membership Fees and Details
Membership Fee
$150 per quarter or $55 per month auto renewing

Membership Details
For members who sign up before January 1 of a calendar year, there is no additional cost for their core option. For members who sign up after January 1, there is an additional $300 fee.

All members are eligible for all ongoing member benefits described above.

Non-members may attend the Wisdom Gathering for $950, but non-member registration is not available until after March 31. The Intimate Retreat with Lee is available for members only.

After January 1 of any calendar year, members may sign up for a core option. Space is limited for the Wisdom Gathering and Intimate Retreat with Lee, but there is no limit to the number of members choosing personal coaching as their one core option.